TOP > Hot Spring > 1F honkan Public Hot Spring Bath and open-air Bath
←

1F Hot Spring Bath and open-air Bath
Public Hot Spring and open Air Bath. Witness first-hand stunning panoramic views of Lake Akan and Mt. Oakan-dake unfold right in front of your eyes. In addition to the scenic rooftop bath open year-round, the main view bath and relaxation room also offer picture-perfect lake views. Relax as you take a moment to gaze at the lush, dynamic and beautiful natural surroundings.
The 8th floor hot spring bath also has a massage area, scrub treatments and oil massages can be served for guests.
Hot Spring
・Time: 14:00 - 22:00 / 22:30 - 10:00 the following next morning
・Also unavailable in the time slot from 22:00 to 22:30 the following for changing baths of men and women's bath.
[Information]
・The public hot spring segregated into "male" baths and "female" baths.
・Please note it in advance that we cannot accept to bring towels in bathtub and also wearing any clothes or swim wear, please use our public onsen for naked style without any clothes.
・We are sorry for inform you that guests with tattoos may not use our public hot springs.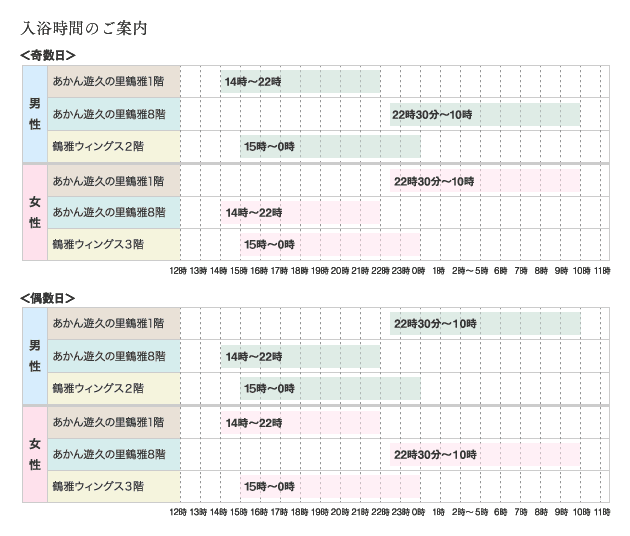 →
×CLOSE