SIGHTSEEING
Lake Akan / 阿寒湖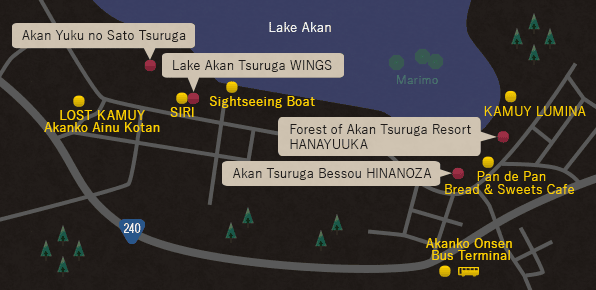 All SEASON
Lake Akan "LOST KAMUY" ロストカムイ

Ainu Ancient Ceremonial Dance using Digital Art *The "Ikor" of "Akanko Ainu Kotan" may be temporarily closed due to the effects of the coronavirus.

[ Information ]
Duration of performance About 40 minutes

Schedule
All seson 21:00~
*Saturday, Sunday, or Holiday: 15:00 and 21:00 each day (2 performances)

admission fee
2,200 yen for adults; 600 yen for elementary school students

Tsuruga Adventure Base SIRI

Explore Lake Akan following Tsuruga Gropup's professional guides in all season
WINTER
Lake Akan Ice Festival "Fuyu Hanabi" 冬華美

Date: Early of February - Middle of March

[ Information ]
The highlight of the event must be the firework displays held every night at 19:30.
SUMMER
Lake Akan "KAMUY LUMINA" カムイルミナ

Early of July - Early of November

A multimedia night walk in feeling of an traditional Ainu story

KAMUY LUMINA will be held from 21st May. 2021.

[ Information ]
Duration of performance:About 1 hours 1.2 km walking path into the land of the Ainu gods.

Date
from summer to autumn

Open Hours
Please check the official website as below;
http://www.kamuylumina.jp/en/

Start time
Start at 15 minute intervals during open hours, e.g., 16:45 / 17:00 / 17:15 ... 22:00 / 22:15 / 22:30


Lake Akan Sightseeing Boat 遊覧船

Early of May - End of November

Sightseeing around Lake Akan and to the scenic "Takiguchi
滝口" and "Marimo Exhibition and Observation Center マリモ展示観察センター"

[ Information ]
Regular ship course 18km one round 85 minutes, to visit the "Marimo exhibition and observation center" in the middle of Lake Akan, including 15minutes to see the Marimo.

Operating Schedule
From MAY to November
*Please inquire about running schedules through website link.


→